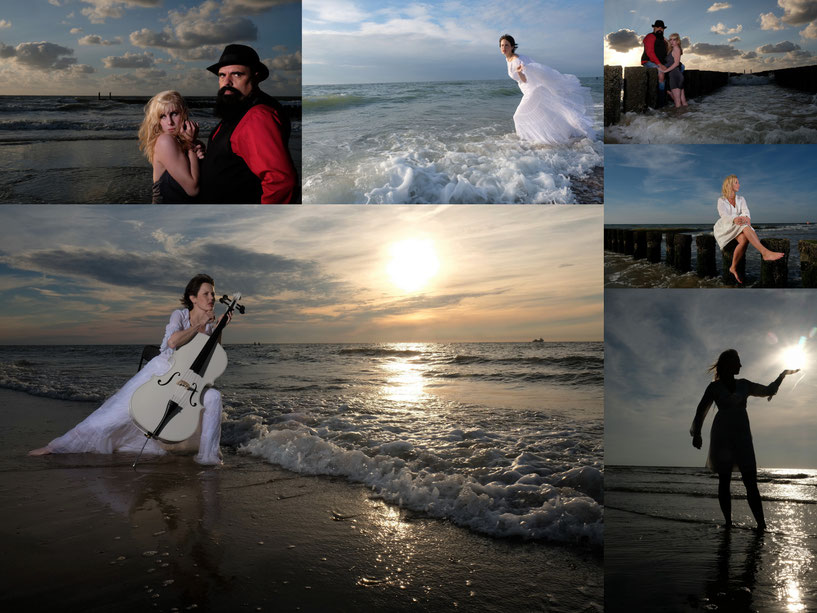 When I was in Domburg last time I decided to organise next time a shooting at the beach because the sun goes down over the sea. That's perfect for a sunset shooting. And in the framework of my Musica sul Viaggio project, I had the idea to realise a special scene with the cello in the sea against the sun. Carolin, my model in this project, was willing to join me in Domburg. That I had the possibility to organise at the end four incredible shootings was more or less by chance. Some examples of these shootings you will find here. Feel free to have a look on my website as well. There you can find more about the cello project.
At least I will thank all the particpants:
Villa Elisabeth which was our "base camp". A place to feel very comfortable. Not only because the hosts repair our cello over night which was broken during our first cello shooting. Thanks for the special service.
Hans Georg from the Red Cap Agency for making the shooting with Nic and Eff Jay possible.
The crazy Nic which makes every shooting to a special event.
The impressive Eff Jay. He is an extraordinary male model. I'm pleased to know him and I'm sure that it will not be our last shooting.
Carolin joined us in Domburg only for the shooting. That is real high commitment. I know that's not self-evident. About your performance is nothing to say. The pictures speak for themselves.
Angelika was for the first time in front of a camera and after a time for acclimatisation, she delivered a great performance. Thank you for the time!
Last but not least I thank my wife Ute. It is not self-evident that a wife accepts that a holiday is "interrupted" by shootings. And additionally she assisted me with the light setting. Big kisses!
An incredible and intensive holiday I never will forget.