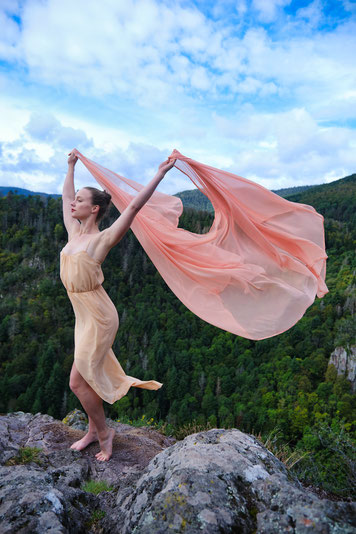 I had actually decided not to take part in any more workshops for health reasons. But a credit from a workshop that had to be cancelled due to the pandemic tempted me to take the opportunity to spend a day with Harald Kröher, the model Emelie and three other participants in Alsace.  So much in advance: the day was a complete success! And I'm not even basing that on the successful pictures.
 Why? For me, workshop pictures don't have the significance that my own pictures have. Especially with Harald Kröher and his models, the workshops are perfectly prepared. The location, the model, the time of day, everything is planned. And on location you get tips on perspective and help with the camera settings. You only have to press the shutter yourself. Although the pictures are very good and I could never have taken them on my own and the learning effect at a workshop is high, in the end they don't feel like my pictures. Despite the model release. 
But I had underestimated the effect of the community. It was great fun! All the participants were in a good mood and I met nice people. Add to that a wonderful landscape, what more could you want. I wasn't sure at first whether I wanted to take on the physical strain for my constitution and not break off the workshop halfway through, after the visit to the Cascade du Nideck, but the team somehow pulled you along and they were always ready to show consideration for the weaker ones. So I "treated" myself to the short but steep climb up the Donon. And I made it. Of course, everything hurt over the next few days and I also caught a cold on the draughty Donon. But what can I tell you: I didn't care. The feeling of having made it outweighed the pain. :-) Thanks to all for this experience! 
Now we have also taken pictures! Emelie is visually such a delicate person at first sight. But when you see her in action, you notice very quickly that she controls every fibre of her body. And even though she was always posting on some precipice, I was never afraid that anything could happen to her. Chapeau, young woman. Last, but not least, my thanks go to Harald, who made this day possible in the first place. So, but now to the pictures, even if they are not really mine, they are worth seeing and inspiring...