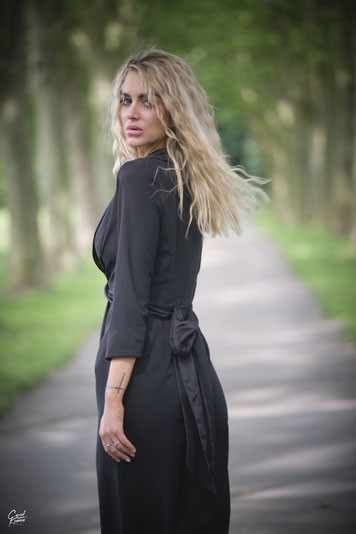 We have known each other since a legendary diva shoot. I will never forget the moment when the young beautiful woman disappeared with the make-up artist and reappeared two hours later as a diva and felt right at home in the role. Everyone present was speechless at the time to see her act like that. The role seemed to be tailor-made for her. It was only years later that we agreed on another shooting. This time on a green meadow with a white Dutch bicycle that I had bought especially for this shooting. Again I was impressed by the results. When pictures of Claudia Schiffer inspired me to a shooting idea, only one came into consideration due to her long blonde hair. 
Besides her extraordinary appearance, I appreciate her perfect preparation for a shooting. The topic and the idea are briefly discussed and she comes directly to the shoot in the appropriate outfit. The outfit seems to put her in the right mood right away, so that she acts like an actress in front of the camera in her role.
And that's why it's always a pleasure for me to photograph with her. Thank you Nadine for these opportunities!
---
---