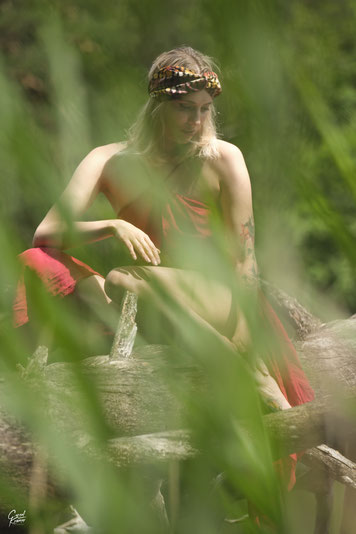 It was not a day like any other. To spend a day roaming through the Palatinate Forest with the  photographer Harald Kröher and the wonderful model Freya and to create impressive pictures at wonderful locations is something special. And it was, to use Harald's words, "simply gigantic". 
It was a wonderful day that not only produced insane images, but was also really fun. After 20 years of photographing people, the technique to produce good pictures is not completely foreign to me either, but it was the tips I got that ultimately made the picture. And since it was not a workshop but a coaching session, Harald was able to engage with me directly. Complemented by the beautiful and completely uncomplicated Freya, the day was perfect. One thing I forgot to mention: The breathtaking locations to which one is led at the right time (topic: light). And if you have to wait half an hour for organisational reasons, we made ourselves a photo location. What do I mean? 
Waiting time in Provence ;-)
Quite cool...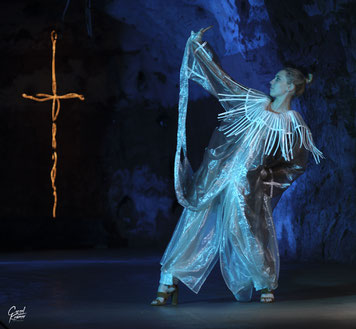 A bunker that was used by the population as a shelter during the Second World War served as our next location. It is hard to believe that people lived here for several weeks. A temperature of only 8 degrees and incredibly high humidity did not exactly invite us to linger. The photographers were equipped with warm waistcoats, but poor Freya had to do without for optical reasons. But she was very brave, as you can see for yourselves.
The short stopover...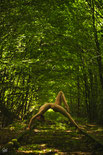 Actually, we were on our way to a café to take a short break and warm up a little with a coffee. But on the way there, we made a short stop, just to take two pictures in this beautiful place, we set up the flash (pincer light) to put Freya in the right light. The rails were mossy and damp and as we didn't want to put Freya in danger with this pose, we only had two shots each. One portrait and one landscape. 
The biotope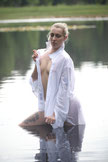 The biotope was supposed to be the highlight of the day. And it was! Not only was the bizarre and mystical landscape an extraordinary photo backdrop, but also unplanned natural events made this place a special experience for us. Not only that Freya presented herself optimally in the different scenarios, whether in playboy style, or as a nude in bizarre tree structures, or romantically in a red dress. That alone was enough of an experience, no, nature also presented itself in its purest (brutal) form. 
Last but not least - Dahner Felsenland (rockland)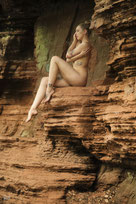 You can't make a trip to this fascinating area without visiting one of these famous rocks that give the area its name. So we also paid a visit to one of these rocks towards the end of the day. Sculptural nude was the theme that not only Harald but also our model Freya mastered perfectly.
 A day was drawing to a close that I will not forget in a hurry. It was pure fun with two people who are easy to get along with ;-) Thanks to both of you for this wonderful experience in this beautiful landscape.  
---