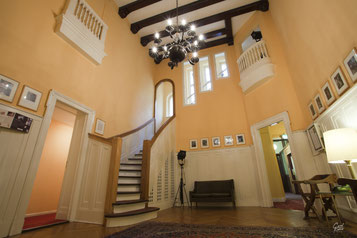 Of course, as a people photographer, you can't get past the iconic Helmut Newton. Through a FotoTV programme, I became aware of the Hotel Bogota in Berlin, where Helmut Newton began his apprenticeship as a photographer. It has been 10 years since I was able to visit this place, but it has remained in my memory to this day and on the occasion of the centenary of his birth, I would like to recall this place steeped in history.  
It was in this building that Helmut Newton spent what he himself described as probably the most beautiful years of his life with his teacher, the fashion photographer Yva. Yva was a successful photographer. Born in 1900 in Berlin, she founded her first photo studio in 1925. Her focus was on fashion and nude photography. Her most famous pupil was probably Helmut Newton, then still Helmut Neustädter. In 1942, as a Jew, she was deported and killed by the Nazis. Her last photo studio at Schlüterstr. 45 in Berlin could still be admired in the former Hotel Bogota. 
It was a special feeling to be able to spend the night in these rooms and imagine that a now world-famous photographer had his professional origins here. The hotel smelled of history everywhere and you felt transported back in time.
 It is a shame that despite great efforts by famous Berlin artists, the hotel could not be maintained due to financial difficulties and has since been modernised and turned into an office building and is therefore no longer available to visitors.
---
---
---