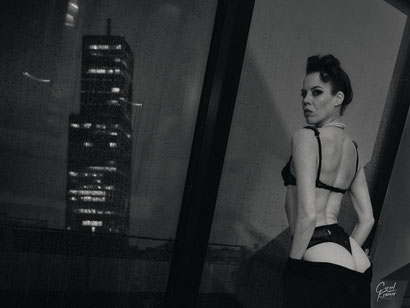 On 31.10. he would have been 100 years old. Helmut Newton was born on 31.10.1920 in Berlin as the son of Jewish parents. He died on 23.01.2004 due to a car accident.
He was one of the photographers whose works impressed me the most and also partly inspired me. Because of his portrayal of women he was not seldom hostile and he was accused of sexism and about some works one can certainly argue, but in my personal interpretation most of his works are rather influenced by strong women, strong personalities. Through their physical size and their often harsh facial features, they give the impression of being superior to the viewer. They often come across as arrogant and vulgar at the same time. What all his pictures have in common: There is something to discover. He not only attached importance to the model's equipment and effect, but also to the surroundings.
For me, the German-Australian photographer is one of the greatest in contemporary history and I was impressed by him not least because of his life story, which certainly cannot be described as simple. It is worth reading his biography.
On the occasion of his birthday I organised a shooting in Helmut Newton style. I wanted to create pictures, the way I interpret and see him. For this purpose I was kindly assisted by the Czech model Denisa Strakova, who not only fitted perfectly into this role, but was also well prepared for the subject. I found a suitable location at Wertheim-Cologne, who kindly gave me the opportunity to have a shooting there. Last but not least, I would like to thank Wolfgang Tietzen for his excellent support and wonderful making of pictures. A video clip about this event will be available soon. And last but not least the headgear was kindly provided by Bea Kahl. Have you become curious? Then please ...
---
---