---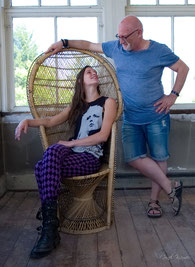 Our first shooting we had last year in Gent. The topic was walk&shoot. A short report you can find in my blog Photowalk in Gent with Khiara.
The shooting should have a character of street photography and at that time Khiara had not to pose and only to be herself. Although she was not able to show her possibilities, I perceived her talent concerning flexibilty, professionalism and expressiveness.
Therefore I asked her for a shooting in North Rhine Westfalia. To make her travel profitable, I organised some shootings with different photographers. 

A first result of my pictures you will find below. Other results will be published shortly. A big thanks to Susanne who was responsible for the outfit of Khiara. She is brilliant. Her ideas and her realisation is a great enrichment for every shooting.  
---